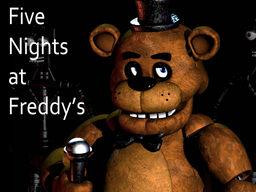 Five Nights at Freddy's is a survival horror game created by Scott Cawthon and the first game in the series. It was released on Aug 18, 2014. Due to it's overwhelming popularity, numerous spinoffs and spoofs have been created in attempt to simulate the same gameplay experience found in the FNAF games, providing humorous and/or ridiculous scenarios.
This game was followed by three sequels Five Nights at Freddy's 2, Five Nights at Freddy's 3, and Five Nights at Freddy's 4.
Plot
The player is hired as an overnight security guard at Freddy Fazbear's Pizzeria. The player receives a phone call from the Phone Guy who explains the duties and responsibilities of being a security guard, and warns that the animatronics seem to move around at night, but not to worry about them.
Gameplay
The majority of the gameplay takes place within the small security room which oversees the function of the entire pizzeria. Over the course of five nights, the player will have to watch closely as the animatronics roam throughout the building. The player has the ability to close the doors and turn on the lights on the surrounding room, but must manage their battery power to last the entire night. The player has the ability to switch from different cameras. The player loses the game if one of the animatronics is able to sneak into the security booth, or the player runs out of battery and Freddy kills you before 6 am
Ad blocker interference detected!
Wikia is a free-to-use site that makes money from advertising. We have a modified experience for viewers using ad blockers

Wikia is not accessible if you've made further modifications. Remove the custom ad blocker rule(s) and the page will load as expected.