The Show Stage is a location in Five Nights at Freddy's within Freddy Fazbear's Pizza and it's also the default location of the Monitor. It is also the starting location for Freddy Fazbear and his band-mates, Bonnie and Chica. It is located in front of the Dining Area, and it's where Freddy and his band-mates play music during the day for the children.
In Five Nights at Freddy's 2, during the cutscenes in between nights, the player sees the pizzeria from the Show Stage.
In Five Nights at Freddy's 3, the Show Stage acts as the starting point for the animatronics in Night 1, 2, and 3's minigames, and the dead child's soul in Night 5's minigame.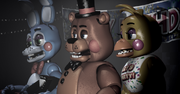 Ad blocker interference detected!
Wikia is a free-to-use site that makes money from advertising. We have a modified experience for viewers using ad blockers

Wikia is not accessible if you've made further modifications. Remove the custom ad blocker rule(s) and the page will load as expected.